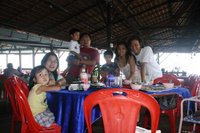 Also on September 2005, we and Aunty Shinta's family went to Pendas, Johor, to have lunch at a seaside seafood restaurant there, built on stilts. In fact, it's actually not a "seaside", but an "over the sea" restaurant since the whole restaurant building is built on stilts over the sea water. We need to walk over a bridge from the shore.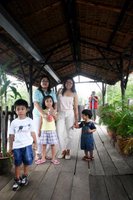 The restaurant is called "Saujana", and it's a muslim seafood restaurant, so it's halal. It is located at Persisiran Pantai Tanjung Adang, Gelang Patah, along Kampong Pendas highway (route J4) in the Johor state, Malaysia. There's no public transport, so you'll need to drive there. From Singapore, take the Tuas second link, and after passing Malaysia immigration and the toll booth, take the first exit towards Tanjong Pelepas port. Turn right on the first T-junction and once you have reached another junction, turn left and you will hit the route J4 towards Pendas. Alternatively, take the second exit to the Gelang Patah town, and once you have passed the town centre, turn left at the T-junction to enter the route J4 towards Pendas. Follow the road and you will pass a concrete underpass (the road will go under a concrete bridge) and once the road deviates left, there's a small road on the right side. Take the narrow road towards the sea. There are two seafood restaurants there, one Chinese and one Malay restaurant. Saujana restaurant is the Malay one.
The food is OK, and the price is, surprisingly, very cheap compared to in Singapore. I think it's worth paying for the toll fee in lieu of the cheaper food, especially if there's a lot of you going. We've been there several times and definitely we will go back.
After lunch, we went to Johor Bahru to do some shopping. We went to Holiday Plaza and then to Pelangi Plaza, before driving back home to Singapore via the causeway.
More pictures of us at the restaurant
can be found here
, thanks to
Aunty Shinta
.